Radio Jackie made their first broadcast on the evening 19th March 1969 under the call-sign CRJ (Clandestine Radio Jackie) on 1542 KHz/194m. Later that month they became part of the Helen Broadcasting Network with a weekly 30 minute slot 197m. Within a few weeks the Helen Network was disbanded, and Radio Jackie decided to continue alone. The Helen Network had consisted of several stations broadcasting from houses and flats for just 30 minutes each. Jackie now had to extend their broadcasts and thus increase their chance of being traced by the Post Office.
Some of the main driving forces behind the station in the early days were Mike Knight, Mike Hayes and Dave Owen.
Radio Caroline had been named after Caroline Kennedy. When the Jackie organisation were setting up their station, they chose the name Jackie after Caroline's mother.
For several weeks the broadcasts continued using a new location each week, but soon they ran out of suitable houses or flats, and they started to repeat locations. Occasionally the Post Office would arrive in the street, but they were easily spotted and the broadcast would terminate before they could pinpoint exactly where it was was emanating from. It was realised that the authorities were more likely to be successful in raiding the station if they continued to re-use house locations. At this point a decision was taken which was to change the way pirate stations would operate for many years to come.
It was decided instead of using someone's house, they would broadcast from mobile locations, initially in Nonsuch Park in Sutton. If the authorities did turn up, they would have to find the transmitter in amongst the undergrowth, and were very likely to be spotted. There were many routes of escape, and anyone who was unlucky enough to be questioned, could simply say that they were out for a walk. It had one other major advantage in that it allowed the erection of a much longer aerial than was normally possible when broadcasting from houses. It did mean that transmitting equipment had to be powered by 12 volt car batteries, which was not ideal as all the transmitters at this time needed several hundred volts for their valves (tubes). Once the practicalities of using the mobile equipment were mastered, Jackie's signal improved significantly, and soon other stations started looking at broadcasting in this way.
197m was at the end of the band away from other popular stations, and listeners were unlikely to find Jackie accidentally so early in 1970 the station moved to 255m, in close proximity to BBC Radio 1. 255 had recently been vacated by RFL, but was crowded with other pirates, so Jackie moved again, this time to 227m. This was close to the popular offshore station RNI, and Jackie undoubtedly picked up many listers as a result. They were to stay on 227 for fifteen years.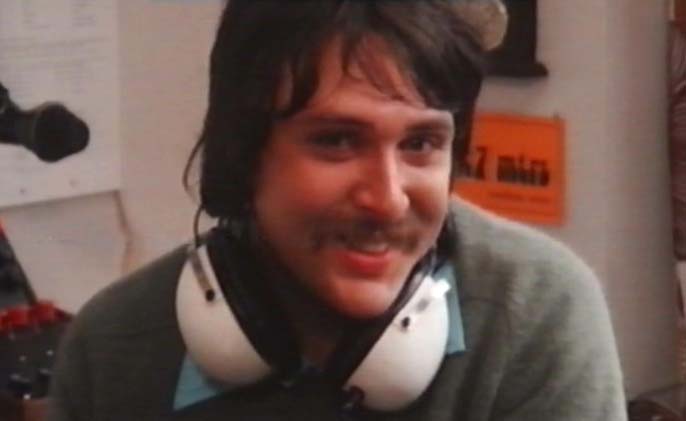 One of Jackie's founding members Mike Knight, pictured in 1977
With the closure of Radio Free London South in early 1970, Jackie became the most consistent of all the pirates. In order to save equipment in the event of raids, Jackie would use a large number of lookouts, usually armed with whistles. They would often advertise on air for site staff and consequently many die hard pirates would learn the ropes at Jackie before starting other stations. There was another motive for having a large number of people on site during a broadcast, in that when a raid did happen, the Post Office would apprehend the new recruits who didn't know what to do, whilst the real operators could escape in the confusion. The new recruits were sometimes called Site Fodder.
Jackie made a broadcast under the name Radio Free London on 94.8 MHz VHF on the day the BBC launched their new local station: BBC Radio London on 95.3MHz. Many listeners found RFL instead of the BBC station, and the broadcast received much press coverage. As a result of the success of this broadcast, Jackie started a regular Saturday night VHF service on 94.4 MHz in February 1971. In contrast to the Medium wave broadcasts, the VHF service suffered very little from the attention of the authorities. The Jackie group dubbed VHF 'Very Hard to Find'.
Towards the end of 1971 an organisation called The London Transmitter of Independent Radio was formed. The LTIR provided a transmission facility for independent broadcasters using their state of the art transistorised 50w transmitters. Soon 94.4MHz was busy most nights of the week with stations broadcast by the LTIR. Radio Jackie's Saturday night service became part of the LTIR network. By 1972 the Post Office finally mastered tracking VHF broadcasts, and the transmissions started being raided heavily.
Jackie tried a new system of site changing on VHF, broadcasting one hour from one site, and then changing to another for the next hour, and finally a third site for the final hour. In practice an hour was too long, and the Post Office would turn up at every site, making the broadcast a sequence of disjointed segments. Most of these broadcasts came from south London, with favourite sites being Headley, Epsom Downs, Burgh Heath and Croydon. At least one broadcast was made from Alexander Palace, however this too was raided.
During 1972, the Conservative government, under Edward Heath, passed a bill allowing the introduction of legal commercial radio in Britain. During the debates in parliament at this time a recording of Radio Jackie was played to illustrate what the new stations could sound like.
Early in 1973 there was a split within Jackie, when several key members, including Dave Owen, left the station to start up Radio Kaleidoscope; a fast moving professional sounding pop station. In spite of this, Jackie continued, though it's VHF service was soon to close and it's MW service began to sound less professional.
By the end of 1974 Jackie was suffering badly with the competition from Kaleidoscope; not only were they losing listeners, but the new generation of broadcasters would offer their help to Kaleidoscope rather than Jackie. As a result the Jackie organisation collapsed and, apart from a Christmas transmission, they were off the air from November 1974 until August 1975. During this time Mike Knight was involved with a broadcast by London Stereo where he was caught by Eric Gotts of the Post Office during a raid. Mike already had five prosecutions for illegal broadcasting and he also had a suspended prison sentence hanging over him. As a result of this raid he went to Pentonville prison for 28 days.
In the Autumn Jackie was back and soon it was Kaleidoscope which was in trouble. The Big K finally closed in February 1976 and by then Jackie was firmly back at the top of the tree. Programmes began to sound more professional, and the station decided to concentrate it's broadcasts on south west London. Soon Jackie was calling itself the sound of South West London; though in reality, at this time, all they did was read out chemist rotas and cinema guides from the local papers.
1977 was to mark a major turning point for Radio Jackie when the station was raided at a site by the Hogsmill River in Tolworth. During the raid Eric Gotts actually physically assaulted Jackie engineer Mike Barrington. Gotts was well known for his heavy handed approach; he and another Post Office man Brian Holder appeared to get a sadistic pleasure from their work. This assault, however, was one step too far and Mike successfully prosecuted Gotts!

Astonishingly, Gotts retained his job, but it was to be three years before the authorities would raid another pirate, and from then on they would only raid a station with a police presence. Even then, Jackie was left well alone and they only went after other stations.
Jackie continued with the broadcasts getting longer. Initially, in spite of the lack of raids, the station continued to use field sites, though their security precautions lapsed. For years they used a corner of Beddington sewage works and it is believed they even buried a 600v HT supply cable from a house over 100 yards away. They continued to broadcast only on Sundays, and did not even try live programmes except at Easter or Christmas.
Jackie soon became a well known feature of SW London. They raised huge amounts of money for local charities in several well publicised campaigns.
By 1982 Dave Owen had returned to Jackie, having worked for Radio Caroline, and a legal commercial station in the Midlands. With Dave's expertise and knowledge of commercial radio, the station decided to expand. A transmitter was set up in a semi-detached house in North Cheam, and 24 hour broadcasts commenced. The operation sounded extremely professional and was soon attracting lots of local advertising. The DJs included experienced commercial presenters and talented newcomers such as Paul McKenna (now a world famous stage hypnotist). An FM service was started, simulcasting the MW programming.
The station went from strength to strength, and was soon able to pay it's staff, and even pay taxes. In audience research Jackie had the second highest figures in the area, and it was only a matter of time before the management at London's only legal commercial music station, Capital Radio, would start to whinge about losing listeners. Jackie continued to broadcast 24 hours a day throughout 1983 and 1984, and opened a shop in Morden. Realising the insecure nature of their existence, they started to campaign for a licence. A petition asking for a licence was signed by over 55,000 local people; many local councillors and MPs supported the station. In spite of this, Radio Jackie was finally raided in February 1985. Recent changes to the broadcasting laws had given the authorites more power to gain access and they did considerable damage during the raid.
Jackie was back on the air within hours, but was quickly raided again. It was realised that the station could not survive this level of concerted action and nobody on the station wanted to go back to broadcasting for a few hours on a Sunday, so it was decided to go out in a blaze of glory. The station re-opened and announced their studio address over the air, inviting listeners to come along for the final day's broadcast. This was to get the attention of the media, and soon the house was crammed not only with listeners, but journalists and TV camera crews too. In spite of the announcement of the station closure, the authorities raided the MW transmitter site a few minutes before the closedown and the final closedown was only heard on the FM channel.
Jackie continued it's campaign for a licence, but seemed to be getting nowhere. As the years went by, Jackie became a distant memory. Then in 1996 it looked as if all the work would pay off when the Radio Authority invited applicants for a local station serving SW London. The Jackie organisation was re-formed, and they made their application, however the licence was awarded to Thames Radio instead. No doubt, the authorities could not bring themselves to grant the licence to such a renowned pirate station.
In the event, Thames Radio was not a success and eventually, after losing money for some time, the station was put up for sale. The Radio Jackie management bought the licence for just £1 in March 2003. At noon on October 19th 2003 Radio Jackie was back 24 hours a day, only this time 100% legal. On 107.8MHz, many of the old voices from the early years can be heard again, but the station has kept up with the times, and is now one of Britain's most successful truly independent radio stations.
The Radio Eric archive holds the following recording(s) of this station:
| | | | |
| --- | --- | --- | --- |
| | | | |
| | 28MB | 60:02 | Mike Knight with a Saturday night VHF service programme via the LTIR. 28th July 1973 |
| | 21MB | 44:51 | Brain Anthony from Boxing Day 1974 on 227 |
| | 28MB | 60:54 | Dickie Allen with a recording from 1975 |
| | 25MB | 54:50 | Jackie was off-air for much of 1975 but returned in the summer. Andy Belmont with a show from September 1975 |
| | 25MB | 53:17 | the Stalwart Mike Knight with a programme from 14th September 1975 |
| | 28MB | 60:31 | Ian West from November 11th 1975 |
| | 29MB | 61:00 | Pip Webster from 27th June 1976 |
| | 28MB | 60:31 | Phil Hazleton with a show from November 11th 1976 |
| | 21MB | 46:13 | Richard Jackson on Christmas day 1976 |
| | 24MB | 60:15 | Mike Knight continues the broadcast on Christmas day 1976 |
| | 28MB | 60:19 | More from Christmas day 1976 with Tony Paul |
| | 26MB | 45:50 | Nicky Marshall with a show from Christmas 1976 |
| | 29MB | 60:52 | Mike Kight celebrates Jackie's birthday with a look back at the first 8 years of the station. 20th March 1977 |
| | 28MB | 60:46 | Uncle Phil Hazleton on June 12th 1977 |
| | 29MB | 60:52 | Richard Jackson with a show from December 26th 1977 |
| | 28MB | 61:39 | Dave Adams kicks off the weekly Sunday broadcast on June 1st 1980 |
| | | 63:19 | Peter Allen and Dave Small from 22nd June 1980 (63:19) |
| | | 31:10 | Jimi King with a live show during a Christmas broadcast which went out on FM as well as 227m. 26th December 1980 (31:10) |
| | 45MB | 96:23 | a late night during the extended Christmas broadcasts, with an additional VHF frequency. December 26th 1980 |
| | | 47:09 | Mark Ellis opening the Sunday broadcast on August 16th 1981 |
| | 22MB | 47:19 | By now Jackie was on air 7 days a week running as a successful commercial operation albeit an illegal one. Dave Small on December 7th 1983 |
| | 3.5MB | 7:29 | we spin up the dial to 227m immediately after Sovereign closes down in Jan '84 |
| | | | |
If you have any recordings or photographs of this station you can share please get in touch