Welcome to Radio Eric, celebrating the British Land Based Pirate radio of the 60s 70 & 80s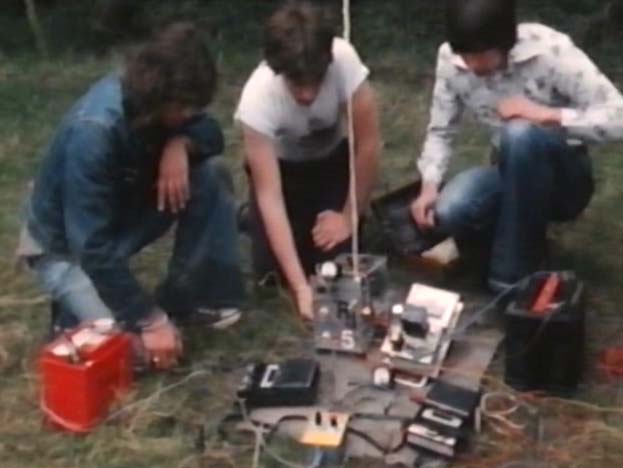 The Radio Jackie crew prepare for a broadcast in 1977
Radio Eric brings you a vast archive of recordings from British Land Based Pirate Radio stations of the 60s 70s & 80s. Recordings are being added on a regular basis, and new material is listed on our WHAT'S NEW page.
Britain didn't have commercial radio until 1973, and even then it was heavily controlled by the authorities. As a result a few people decided to start their own radio stations in defiance of the 1949 Wireless Telegraphy act. Because there was so little music on the radio, these stations got quite large audiences.
The authorities would go out in force to close the stations down. Often people were caught and could be fined up to £400 (some even went to prison.) The equipment was confiscated, but it all just added to the magic for the listeners. The excitement of running down the road escaping with a still warm transmitter provided plenty of excitement for the operators too (on a lucky day).
Eventually successive governments slowly relaxed their stranglehold on the airwaves, and now several old pirates broadcast legally 24 hours a day. Radio Eric remembers the golden days of this form of broadcasting.
Incidentally the authority which was responsible for raiding the pirates was originally the Post Office. These raiding teams were led for many years by a certain Eric Gotts. It is alleged that not even his colleagues had much good to say about him!
Mr Gotts
If you want to find out more about why pirate radio was so popular in the UK, check out our HISTORY pages.
All our recordings are genuine - either taped off air, or taken from studio tapes.
If you have any tapes you would like to share by allowing us to make them available for download, please get in touch.
We are looking for large chunks of programmes (10 mins+) from British Land Based Pirates from the 60s 70s and 80s. Preferably reasonable quality (though in the case of early or very rare recordings, anything). Did you tape your favourite station, or what about that programme tape that got lost in the boot of your car on the way back from site. Your old programmes can live again and reach a whole new audience. Show the world why you got excited enough to use up a C90 taping your favourite station (and they weren't cheap in those days).
All tapes will be returned once digitised and will not be used for profit making.